Community Medicine Elective Program.
---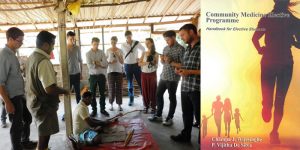 Community Medicine Elective Programme of the Department of Community Medicine, University of Ruhuna is an organized programme, which spans over a period of one week to four weeks depending on the student's requirements. The objective of this programme is to provide students from overseas universities, an exposure to the public health system in Sri Lanka and the preventive care activities carried out at the community level.
Students will be introduced to various public health programmes such as the Maternal and Child Health Programme, School Health Programme, Family Planning and Well Women Services.    Field visits are scheduled to observe the delivery of environmental and occupational health services at workplace and community level and provision of preventive, promote and rehabilitative care for vulnerable groups such as elderly and orphans, children with special needs, persons with disabilities. The exposure to the Ayurveda system of Medicine – the main alternative health care system – is an attractive component of our Elective Programme. Students can communicate with the Department of Community Medicine prior to or after arrival to select the areas to be covered during the appointments and the staff will try their best to schedule the field visits to accommodate these choices. In addition, interested elective students can gain experience in public health related research in a resource poor setting by joining the ongoing research activities of the department or by planning a research together with the interested local and overseas faculty members, prior to their arrival.
The Elective Programme in Community Medicine is an ideal choice for overseas students to understand the difference we can make in the health status of people through a committed public health service, despite limited resources. It provides experience on the holistic approach in medical practice in the community setting and a basic understanding of the socio-cultural determinants of health in a developing country. Most interestingly, the programme offers ample opportunities to taste the flavour of Sri Lankan culture and traditions through visits to many interesting places and meeting people from various strata of the society.