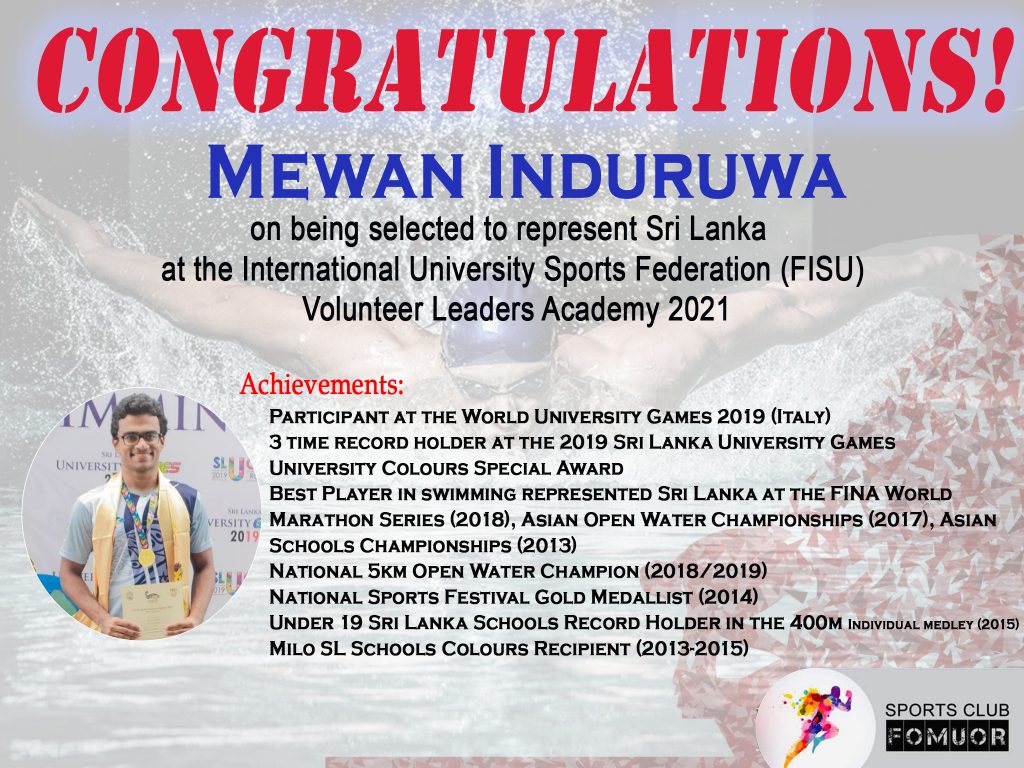 Our heartiest congratulations to Mevan Induruwa, a 3rd year medical student of University of Ruhuna, on being selected to represent Sri Lanka at the International University Sports Federation (FISU) Volunteer Leaders Academy 2021.
FISU Volunteer Leaders Academy, an annual event organized by the International University Sports Federation with over 100 university students from more than 100 countries, is an educational event promoting sports values with dynamic and emerging leaders.
 Mevan Induruwa is an exceptional swimmer who has brought glory to Sri Lanka numerous times. Few of his achievements include participation in World University Games 2019, Fina World Marathon Swim Series- Abu Dhabi 2018, Asian Open Water Swimming championships- Malaysia 2017, Asian Schools Swimming championships- China 2013, South Asian Aquatic championships- Colombo 2016, National age group record holder in 1500m Free- 2018, Sri Lanka University Games 2019 new meet records (200m & 400m Free, 200m Fly, 4*100m Free relay, 4*100m Medley relay), Best player in Inter Faculty Swimming 2019, University Coloursman Swimming 2019, Best player of year 2019 & Special Awards for Swimming in University of Ruhuna.
Sports Club,
Faculty of Medicine,
University of Ruhuna.